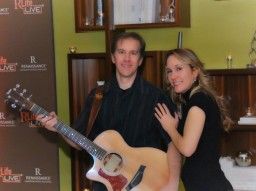 Enjoy this musical roller coaster ride of acoustic rock, twists and turns of country, light jazz and soul, plenty of guitar loops and heart stopping ballads.  
You can find the dynamic acoustic duo of singer songwriter Kristina Furey and guitar looping madman Dan Furey on the Gulf Coast of Florida in the Tampa, Bradenton, and Sarasota area. Whether they are playing original music or covers of great artists such as Eva Cassidy, Rickie Lee Jones, Ben Harper, Alabama Shakes, Otis Redding, Kt Tunstall, Cee Lo Green and more, one thing is certain, it promises to be a pleasurable experience you won't soon forget and one you will want to share.
A perfect choice for any event where you want the music to be lively and engaging without taking over your event.
(All original music performances-All cover performances-Weddings-Private concerts-Custom songs-Jingles)