"Enjoy the View" is the last song of our "2020 Original Song a Week Challenge".   
Dan and I have had a habit of closing a lot of our performances with Michael Franti's and Spearhead's "Say Hey I Love You".   We did it once and got so many comments from people, telling us they loved it, that I almost always put it on the list as our closer.  Up until our last live performance, we were still getting comments on it and what a great feel it left everyone with.  I love that people love it as much as I do and especially that they love our cover! 
2020 has been such a tough year for so many people, that I was thinking I wanted to have the last song of our challenge and closer to the year, be a little quieter and touching.  We have had some performances where it just felt right to leave the audience with a song that felt more like a soft kiss.  I thought, let's end things like that.  Then, Dan kindly pointed out, that the past couple of songs were softer and maybe a more electric, joy filled song, would make for a better ender.  Something uplifting and hopeful.  He had been working on something that he thought would fit the bill.  Having it pointed out to me that way I agreed and wondered, what would Michael Franti and Spearhead write?  Cue the crickets because my mind was as empty as a field.  Then, I listened to the music Dan came up with and thought of the Rob Thomas song, "Street Corner Symphony" and wondered if I could get something close to that feel with the lyrics…  While I considered this and continued to listen to Dan play,  I had this brain flash moment.  It was this really strong thought that came out of nowhere, maybe it was more of a strong memory that the theme song to the original "Party of Five" was "Hold My Hand" by Hoodie and the BlowFish.   Accompanying this thought was goosebumps and this strong urge to put some positive Hoodie and the Blowfish vibes into a song that closes out what seems to me to be a "Party of Five" kind of year.  Yeah, yeah, yeah, I know the Bodean's song, "Closer to Free" is the song that stuck as the "Party of Five" theme song.  Also, a great, amazingly positive, hope springs eternal kind of song.  BUT I had Hoodie goosebumps so… 
When it came time to chalk the wall I came up with this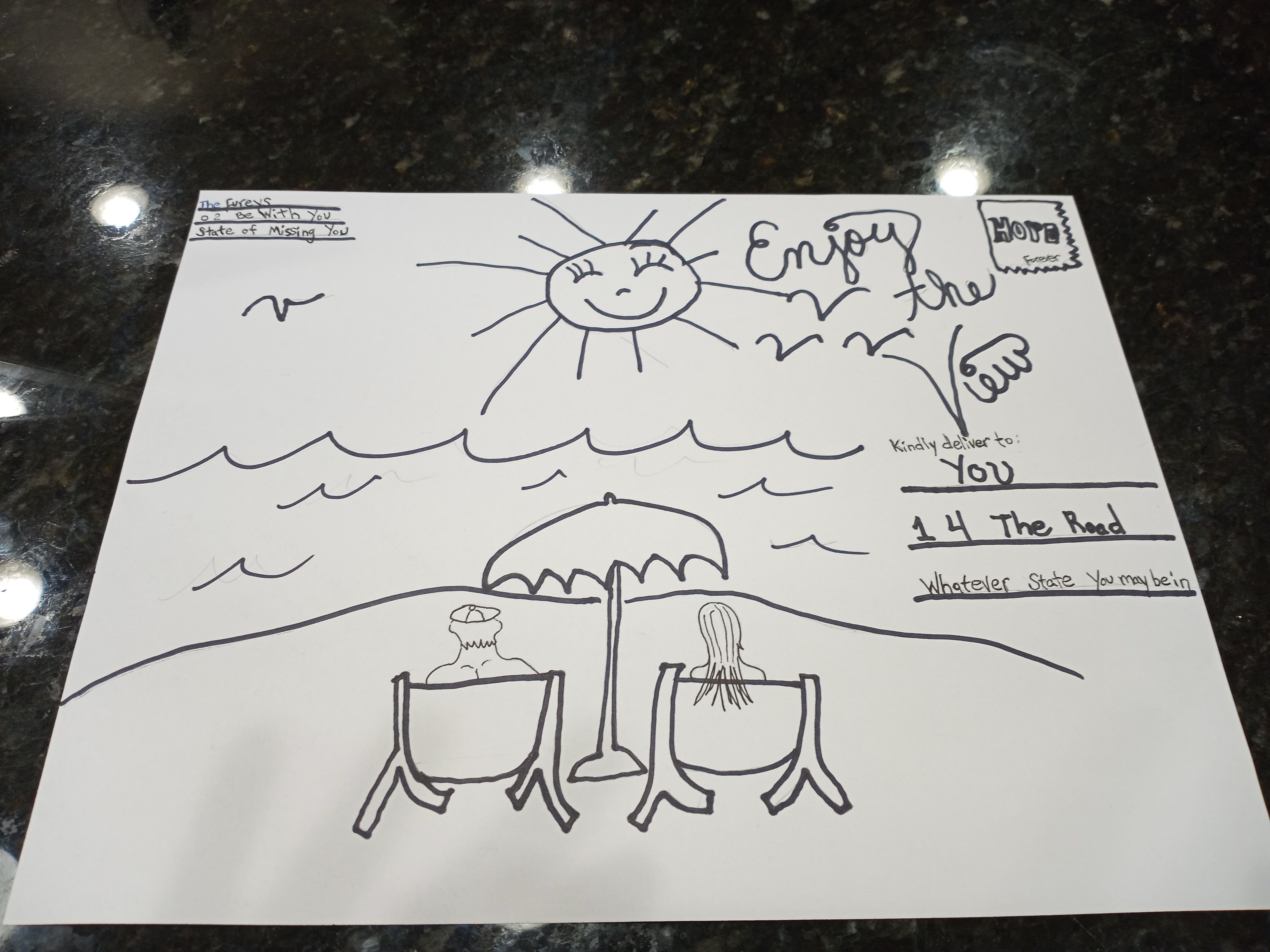 This kind of hopeful, "Enjoy the View", "Wish You Were Here", "Missing You" but "Forever" stamped with "Hope" kind of message.  My favorite line from "Enjoy the View", is "The life you live, is the life you give and it's all just recycling."  I hope we all give each other our best in the coming new year.